Services
A forty-year experience gained in this specific field gives us a technical and economic guarantee
AQUA CHEM Srl offers his considerable know-how in the field of technology for condensate filtration of condensate in conventional and nuclear power plants. We offer our wide and sophisticated range of services and products to technical designers interested in our filtration processes.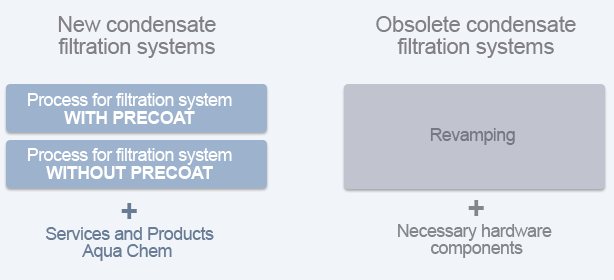 Precoat filters
We can provide data and process design for precoat filtration systems according to the Scandinavian criteria, which can provide excellent performance in terms of physical-chemical performance.
non Precoat filters
We can provide data and process design for pre filtration systems without precoat according to the Italian criteria for condensate treatment which provide a dual system pre-filtration stage equipped with pleated washable filter elements and mixed or separated beads. The extraordinary 15 years experience on similar plants is the best guarantee for our sophisticated interested Customers.
revamping
We cooperate with carefully selected companies in the field of revamping and modernization of obsolete condensate filtration systems that require substantial "refreshing". In addition to the latest technological innovations, we can provide the necessary hardware components like electrical panels, valves, instrumentation and other.